Arizona –
Three British tourists were killed in a helicopter crash in the Grand Canyon, United States (US). The helicopter on board the three tourists crashed on the air for a scenic tour.
As reported by AFP Monday (12/2/2018), three other Britons and the helicopter pilot were injured in the incident occurred on Saturday (10/2) evening, at around 5:20 pm local time. The UK Foreign Office confirmed this report in its statement.
"We support the families of six British citizens who were involved in a helicopter crash at the Grand Canyon on February 10, and we continue to communicate closely with the US emergency service," said one interpreter (19459012)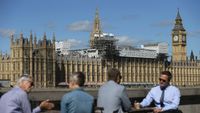 London
–
 A recent report reveals one in five people working in the British Parliament have been victims or witnessed sexual harassment while working, throughout 2017. This report reveals a veil of sexual harassment culture in parliament.
As reported by AFP and CNN Thursday (8/2/2018), a cross-party group survey is open to every staff working in Westminster or the British parliament, 1,377 people. Those who participated in the survey were kept anonymous.
Of that total, 19 percent or fifth claimed to have experienced or witnessed sexual harassment while working within the past 12 months. Another 39 percent said they had experienced non-sexual abuse or bullying.
The figure shows those who experienced bullying or harassment while working were mostly female. Precisely 45 percent are women and 35 percent are male.
The survey was conducted by a group of cross-party MPs focusing on the issue of preventing sexual harassment and bullying within parliament. This is following up the rampant allegations of sexual harassment that drag some lawmakers after the scandal Harvey Weinstein, a famous Hollywood producer accused of harassing many actresses.
Survey reports mention bullying and harassment 'have entered into the lives of people working in or with parliament'.
Through the results of this survey, it is hoped that there will be better protection and support measures for staff and parliamentarians who are victims. It is also hoped that there will be a new code of conduct and the establishment of an independent and confidential complaint procedure. The recommendations that follow up this report are broadening and reforming the role of commissioners enforcing parliamentary standards and other relevant commissions.
Call for wider sanctions for offenders, from written apologies, mandatory training, agreements to improve future behavior, deactivation or withdrawal of parliamentarians. This will be discussed by parliament beginning in late February.
"This is a big day for our parliament and our political world," said UK lawmaker Andrea Leadsom, who led House of Commons and cross-group panel this party.
"The new independent procedure will show that we want the best parliament in the world when it comes to treating everyone who works here with respect and dignity," he added. "This is a big step in bringing the cultural change that parliament needs," said Leadsom.
(nvc / nkn)
<! –
 
->