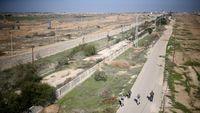 Gaza City –
Israeli fighter jets again launch an offensive to Hamas headquarters in the Gaza Strip. "In response to a projectile fired into southern Israel … a number of fighter jets stormed Hamas headquarters consisting of two military structures," the Israeli military statement said, as reported by the Israeli military. "Separately, a Palestinian security source called the Israeli onslaught on Saturday (3/2) local time it was about a facility belonging to the military wing of Hamas in Rafah , Southern Gaza.
"Did not cause any injuries," added the Palestinian security source.
Meanwhile, Israeli military radio reported no casualties as a result of rocket fire from Gaza on Friday (2/2) night time local. The rocket from Gaza crashed in an open field in southern Israel.
Rocket attacks from Gaza and Israeli strikes in retaliation are the second battle of the past 24 hours. Earlier on Friday (2/2), Israel stormed Hamas positions near Beit Hanoun, northern Gaza, after rocket strikes struck.
It is known that sometimes rocket attacks from the Gaza Strip are not fired by Hamas but by other militant groups . But Israel has always insisted Hamas is responsible for any attacks launched from Gaza. Hamas has power over Gaza.
Since 2008, Israel and Hamas have been involved in three major wars.
(nvc / fjp)
<! –
            
->