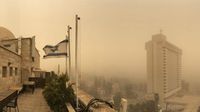 Gaza City
–
 Israeli jets attacked the Gaza Strip on Saturday (17/2) local time. The attack was launched after four Israeli soldiers were wounded by an explosion from a simple tool on the border of the Palestinian settlement.
The explosion that wounded the Israeli soldier was one serious incident since 2014 on the border of the settlement which is controlled by Hamas.
Israeli soldiers say "fighter jets target six military targets in Gaza owned by Hamas, including: a terror tunnel in the Zaytun area and military complex near Deir el-Balah and Khan Yunis". They later said there was an identifiable "launch" coming from the Gaza Strip in Israeli territory.
At a security conference in Munich, Germany, Prime Minister Benjamin Netanyahu stated the incident on the Gaza border was a "very serious incident "and promised to" respond appropriately ".
A Palestinian security source said Israeli attacks struck three Hamas bases in the east of the blockaded Gaza Strip. The medical officer said two Palestinians were wounded.
"Two soldiers were seriously wounded, one was slightly injured, and one was slightly wounded," the Israeli military said of the outcome of an explosion near the Gaza border. But they said none of the Israeli soldiers were threatened with their lives.
Israel then quickly opened fire from tanks at an observation post in southern Gaza. He said no one was hurt by this tank shot. Palestinian security officials said there was an explosion in the east of the city of Khan Yunis.
Israeli army spokesman Jonathan Conricus said the "rogue group" claimed responsibility for the explosive that triggered the conflict. He suspects that this is an indication of the existence of radical Islamist groups in Gaza.
"From our point of view, Hamas is responsible" said Conricus. He said explosives had been planted when a protest was held by Hamas on Friday (16/2).
Hamas' military wing, the Ezzedine al-Qassam Brigade, said in a statement saying it had fired on the passing Israeli jets. But Jonathan Conricus denied the claims of the Ezzedine al-Qassam Brigade.
 
(dnu / rjo)
<! –
 
->